KIDS' DAY: Sunday June 23, 2024 9 a.m. to 1 p.m. in the Reno Livestock Events Center Indoor Arena
Parents, bring those aspiring cowboys and cowgirls on down and join the Reno Rodeo volunteers and participants on a day just for the kids. Kids' Day features interactive activities and live displays.   We have something for kids of all ages including milking a cow, pictures with rodeo royalty, horseback rides, animals galore and so much more.  Kids' Day is also proud to host the 7th Annual Mutton Bustin' Championship.
Reno Rodeo Kids' Day is a free event hosting local businesses and non-profits to aid in educating kids on the tradition of rodeo, agriculture and the western lifestyle.  Please join us for a fun-filled day dedicated to the kids in our community.  For a sneak peek at what to expect take a look at our participants below.  We hope to see y'all at Kids' Day!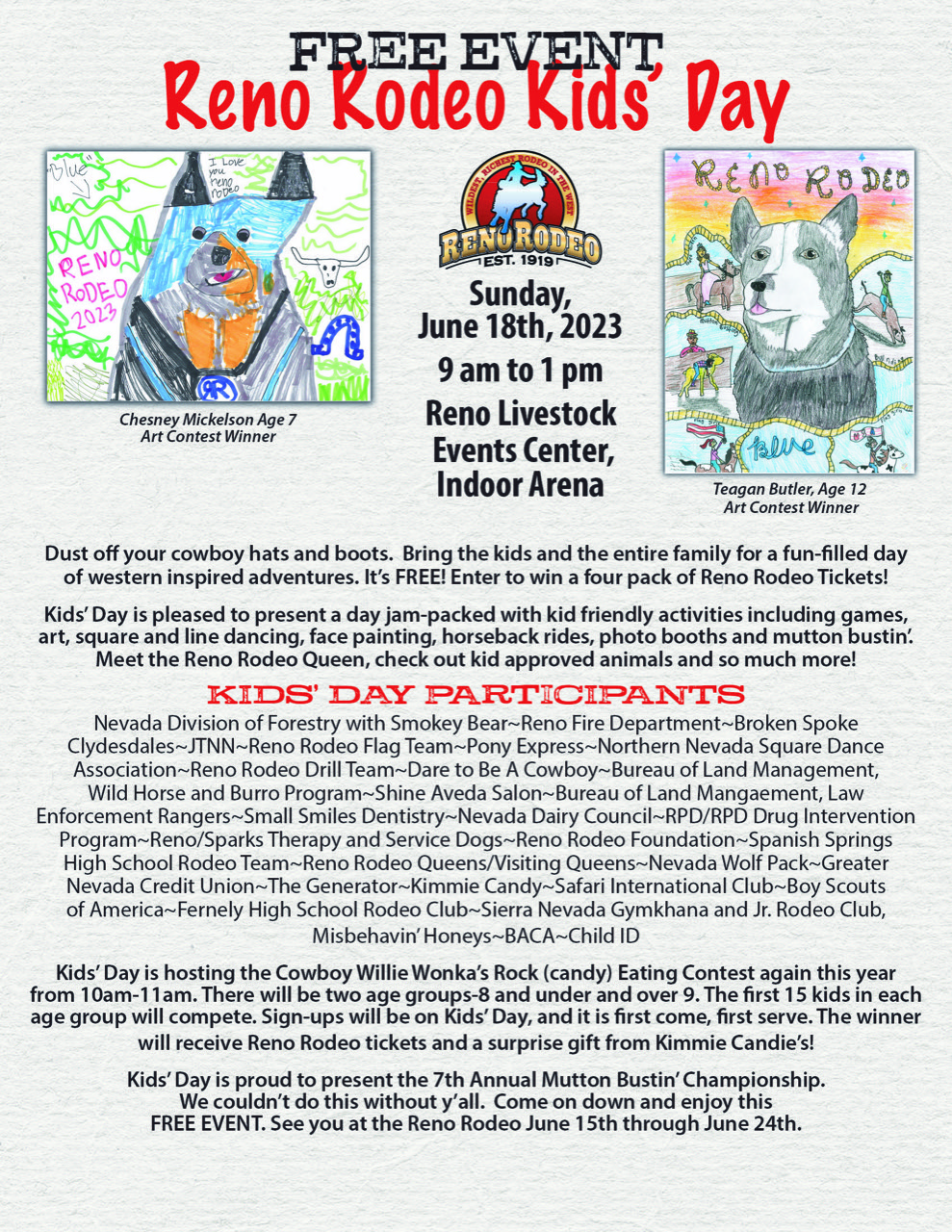 2024 RENO RODEO ASSOCIATION MUTTON BUSTIN' CHAMPIONSHIP
Participants must be at least five (5) years of age and no more than seven (7) years of age on the first day of Reno Rodeo 2024 (June 20, 2024). A copy of the participant's birth certificate will be required at sign-in. Participants may not weigh more than 65 pounds. (For the safety of our animals and the safety of your children, we emphasize the weight limit of no more than 65 pounds). Western attire is required (i.e. long sleeve shirt, long pants, and boots). Helmets and vests will be supplied by a sponsor, as they are required during the ride. The participants and one (1) adult only will be allowed in the chute area.
The application will appear on the website from March 1 at 8 a.m. through March 5. It will come down at midnight or until we have 100 kids. The drawing will be held on March 6 at 10 a.m. One hundred applications will be chosen by the computer randomly. The rest will be put on a waiting list.
ATTENTION: please press the submit/save button once or you will be charged twice.
Check-in will start at 9:45 a.m. on Sunday, June 23, 2024 in the indoor arena. At check-in, you will receive a back number for the participant. The event will consist of five go-rounds, with 20 participants each. At the end of the five go rounds, the ten best times will be competing in the 7th Annual Reno Rodeo Mutton Bustin' Championship! Top three will receive trophies and the winner will also receive a belt buckle.
---
Participating Businesses

Nevada Division of Forestry with Smokey the Bear
Reno Fire Department
Broken Spoke Clydsedales
JTNN
Reno Rodeo Flag Team
Pony Express
Northern Nevada Square Dance Association
Reno Rodeo Drill Team
Dare to Be a Cowboy
Bureau of Land Management
Wild Horse and Burro Program
Shine Aveda Salon
Law Enforcement Rangers
Small Smiles Dentistry
Nevada Dairy Council
RPD/RPD Drug Intervention Program
Reno/Sparks Therapy and Service Dogs
Reno Rodeo Foundation
Spanish Springs High School Rodeo Team
Reno Rodeo Queens/Visiting Queens
Nevada Wolf Pack
Greater Nevada Credit Union
The Generator
Kimmie Candy
Safari International Club
Boy Scouts of America
Fernley High School Rodeo Club
Sierra Nevada Gymkhana and Jr. Rodeo Club
Misbehavin' Honeys
BACA
Child ID