Bob Tallman
Bob Tallman's unique tone and down-home delivery have made him the epitome of professional rodeo announcing, and he is with us once again for his 47th consecutive year at the Reno Rodeo. His unique ability to entertain and educate people about rodeo, and the spirit of the West, has earned him a place inside of multiple halls of fame including the Professional Rodeo Cowboy Association, the National Cowboy Hall of Fame and the Texas Cowboy Hall of Fame.
In 2020 Bob Tallman was honored at the 13th Annual Wrangler Gold Buckle Gala, held at Billy Bob's Texas, with the Legends of ProRodeo Award from the ProRodeo Hall of Fame. Bob was also awarded "Announcer of the Year" at the PRCA Annual Awards Dinner held at Dickie's Arena in Forth Worth, Texas. This is the 10th time Bob has received this award.
While Bob has been named Announcer of the Year on multiple occasions- he is always Reno Rodeo's "Announcer of the Year."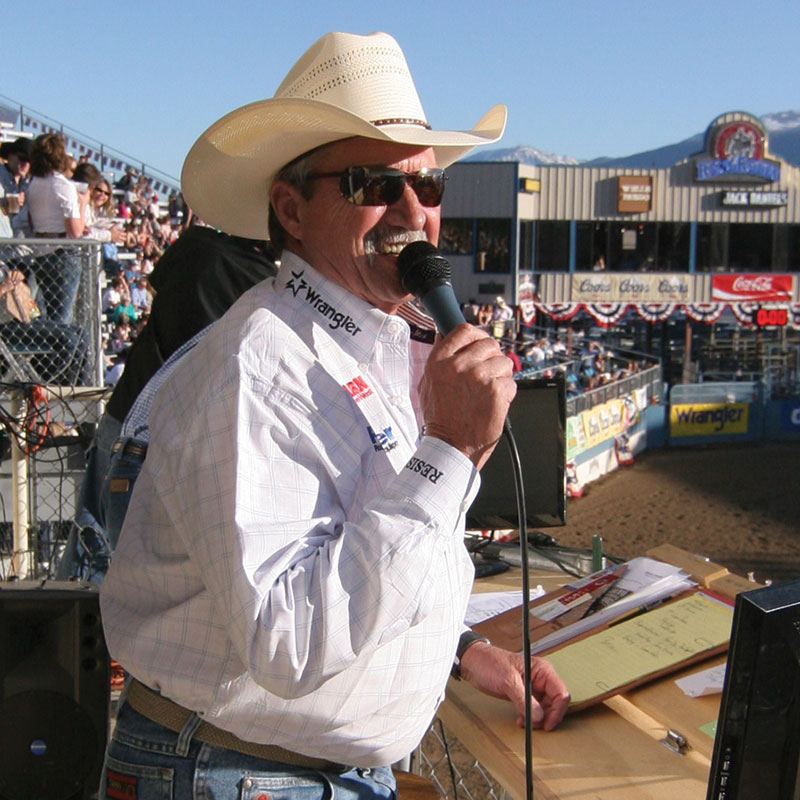 Wayne Brooks
Wayne Brooks' smiling face and friendly personality illustrate a personal excitement for the sport of rodeo. Like many other announcers, his rodeo career began in the arena as a contestant. He competed in the rough stock events, gaining a personal understanding of the sport that he shares with the audience every night. Whether he's joking with one of the cowboys between runs, or quietly requesting silence after a rodeo wreck, Brooks makes every fan a part of the performance.
Wayne became a PRCA member in 1994 and has had the honor of being chosen Announcer of the Year five times. Further, he has been selected as one of the Wrangler National Finals announcers nine times, where he has had the pleasure of to work along side of Bob Tallman, Randy Corley and Boyd Polhamus – all rodeo royalty in their own right.