2020 Reno Rodeo Parade
After 100 years, the 2020 Reno Rodeo Parade promises to surpass all expectations. The blend of Reno's history and diverse cultures with Reno Rodeo brings the flavor of Reno's western heritage to life. Enjoy the sights and sounds of local, regional and national entries as they make their way along Virginia Street from 9th Street, Downtown, through the Arch and over the Truckee ending at Mill St. Come join in this unique celebration of the Reno Community with the Reno Rodeo Parade, Saturday, June 20, 2020 starting at 10:00 AM.
Reno Host Lions Club will be holding their annual Buckaroo Breakfast at Harrah's Concert Plaza on Parade day starting at 7:30 AM. Donation.
Reno Rodeo will also be hosting Kids Zone at the Harrah's Concert Plaza on Parade Day starting at 8:00 AM. Let the Kids interact with live animals, displays, Real Cowboys and Real Cowgirls. Free!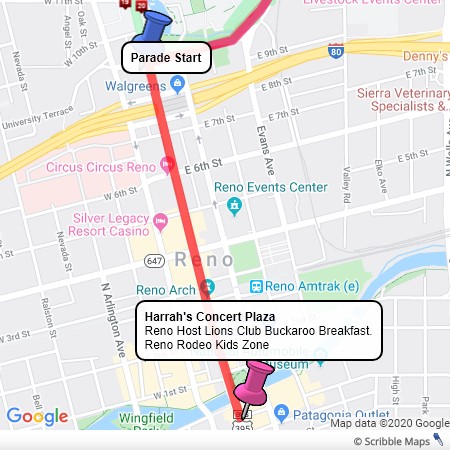 On-line and Mail-in Parade entry form will be available shortly.
Watch for details on Reno Rodeo Parade's "Rodeo Clown Barrel