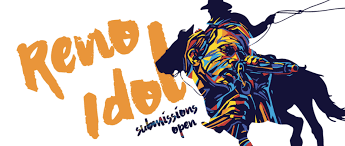 IT'S RODEO IDOL TIME! We are looking for people to sing the National Anthem at the 2022 Reno Rodeo.
Contest Instructions & Rules:
Submit a YouTube or Vimeo link of you singing the National Anthem to

[email protected]

. Also submit a 80-120 word typewritten bio, written in third person, introducing yourself, and highlighting achievements. Please include any noteworthy projects or activities that you are involved with at this time. Additionally, highlight interesting facts that the reader would like to know about you and your family, your interests, current education activities, or job and career aspirations. Also submit a headshot photo. You must submit your materials by 3/31/22 at midnight to be eligible to make it to the next round.
A panel of Reno Rodeo judges will select a group of semi-finalists to be voted on by you, the fans on social media from 4/5/22 – 4/20/22.
The top contestants will then be selected to take the stage for the final round of judging at The Nugget on Thursday April 28th, in the Showroom at 6pm. This year, contestants will only be singing the National Anthem. Must be 16+ years to submit. Please DM us with any questions! Good luck!