Meet your 2023 Miss Reno Rodeo Contestants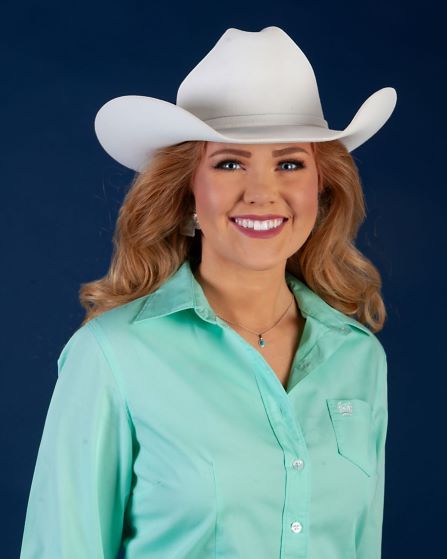 Annemarie Vogedes a native Nevadan is the 22-year-old daughter of Ulrich and Linda Vogedes. Annemarie grew up with horses which instilled in her discipline, work ethic, and ignited a passion for animals at an early age.
Annemarie will be graduating from the University of Nevada, Reno May 2022 with a Bachelor of Art in Art with an emphasis in digital media and a minor in Journalism. While in college she joined Pi Beta Phi fraternity for women as well as the Nevada Equestrian Team.
Shortly after joining the Nevada Equestrian Team Annemarie became the team president for two consecutive years. Through her college career Annemarie has volunteered with multiple equestrian organizations including the Reno Rodeo and Washoe County 4-H. She was recently invited to teach a 4-H Showmanship clinic and loved that she could share her knowledge with kids in the community. Annemarie encourages students of all ages and backgrounds to pursue their dreams of being around horses.
Annemarie fell in love with the Reno Rodeo on her third birthday, when she rode in the Reno Rodeo parade for the first time on her pony Meggie and won Best Dressed Cowgirl. Almost every year since she has spent her birthday at the Reno Rodeo.
Annemarie hopes to make a difference in public awareness in favor of agricultural and rodeo traditions that are currently threatened by animal rights extremist groups.
Annemarie likes to give back to her community by donating blood on a regular basis. Her favorite past times are riding horses, traveling, photography, fishing, and watching baseball.
Becoming Miss Reno Rodeo and representing the "Wildest, Richest, Rodeo in the West" would not only be an honor but would allow Annemarie to continue to share her love for rodeo with her community.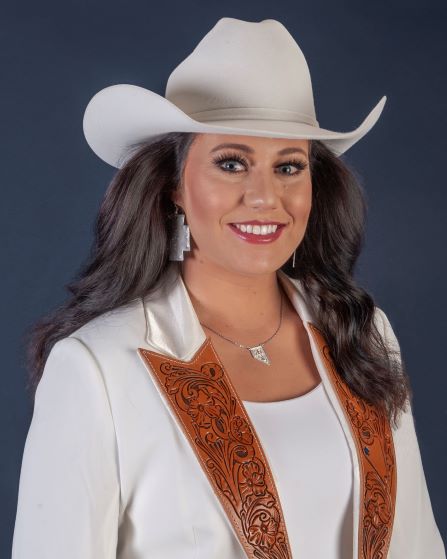 The passion for Cynthia Curle to run for Miss Reno Rodeo started at a very young age. Now 22, those dreams are coming true. Cynthia grew up on a small ranch in south Reno, NV where she produced young horses and held many championship titles in dressage competitions. Cynthia and her horse Heineken are current west coast dressage champions. In 2019, Cynthia was a member of the Reno Rodeo Flag team riding one of her family's champion dressage horses, Hazen.
Cynthia's other interests include ski racing and playing lacrosse where she holds multiple state titles, an ESPN award, a Gatorade player of the year award, multiple sportsmanship awards, and an All-American award. Cynthia is a member of the Sierra NV Chapter dressage board and UNR Pack lacrosse board.
Cynthia comes from a very diverse family. Her brother Tyler is a professional skier. Her father Charlie, a construction foreman, is a native of New Zealand where his family supplied rough stock for rodeos. Her mother, Beth, is an active Dressage rider and is very active in the equestrian community.
Cynthia plans to finish her education with a Law degree and is currently studying for her undergraduate degree in Political Science and English. Dyslexic, Cynthia is an active advocate for the disability and has received multiple GPA honors and 5 triple-A awards for a great "Attitude, Academic, and Athletic" drive.
Cynthia wants to be Miss Reno Rodeo because she sees herself being a successful role model others can look up to. To be a queen that is remembered for helping grow the rodeo industry, donations, volunteers, sponsorships, lifelong fans, and the Reno community as a whole. As Miss Reno Rodeo Cynthia would dedicate her time to thanking every volunteer for their involvement in the Reno Rodeo.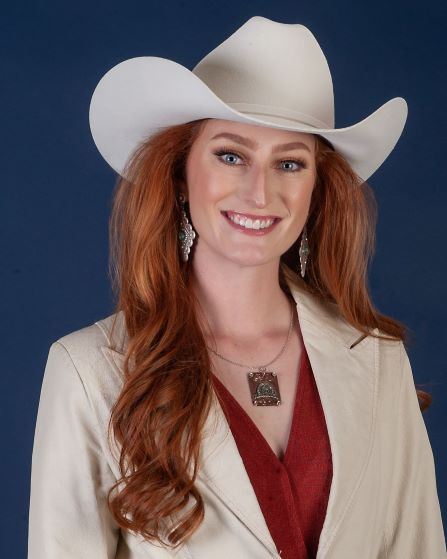 Kacey Peeks was born and raised in Reno, Nevada. As a child, she was involved in junior rodeo as well as softball. She competed in barrel racing, pole bending and many other events. She has worked hard to be able to travel across the country for softball competing in many national tournaments and even played in the national championship in Oregon and Oklahoma. For the past six years, she has participated with the Reno Rodeo Cattle Drive as a medic alongside her mom.
In 2017, Kacey graduated from Bishop Manogue Catholic High School. Upon graduating, she spent her first year of college at UNR in order to stay home and help raise an injured mustang foal named Stella. Stella was attacked by coyotes at birth and Kacey, with the help of her mom, rescued and nursed her back to health. Kacey formally adopted Stella at eight months old and is about to celebrate her fourth birthday.
Her next adventure was at the University of Nevada, Las Vegas where she spent the next three years obtaining a degree in interior architecture and design. While at UNLV, she joined a sorority whose philanthropy is breast cancer education and awareness. While there, she participated in many events to raise funds for that cause.
In the future, Kacey hopes to start her own interior design business and help others turn their dreams into reality through design. She wants to be able to use her creative side as much as possible.
Being Miss Reno Rodeo would be a dream come true and an incredible honor for Kacey. She has been attending the rodeo since she was a child and has been heavily involved as a wrangler, member and participant of the cattle drive for the past six years. The community and friendships that she has gained through the association have shaped her into who she is today. She wants to be able to set an example for others and give back to the future generations of the amazing sport of rodeo.